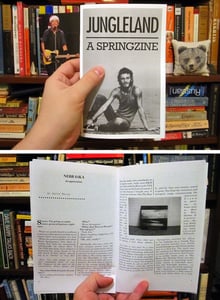 $

4.00
Jungleland is a limited-edition, printed fanzine about Bruce Springsteen. Written by 'second-generation' Springsteen fans, it tries to explain the appeal his music holds for people who were born after he first broke through to the mainstream. This is done in the form of essays, recollections, ramblings and short stories.
Originally printed by Matthias Scherer in the UK, the run of 100 copies sold out instantly. Now re-printed in Brooklyn, NY by Matt Carman and Kseniya Yarosh (editors of the zine I Love Bad Movies and organizers of the Brooklyn Zine Fest), this great Springzine is available for the first time in more than a year.
Get your copy of Jungleland today before it disappears once again down Thunder Road.
44 black & white pages with card stock cover.